The economic powerhouse.
The fuel consumption of the ET90 is up to 20 percent lower than with comparable models – this reduces the operating costs significantly. At the same time, it scores in applications with an excellent engine and hydraulic performance. This efficient combination provides for first-class digging power with up to 20% more bucket breakaway force. Conversely, the economical load sensing hydraulic system allows for finely controllable lifting arm movements with a full performance at the same time. Whether power or precision – the ET90 is exactly the right excavator for any application.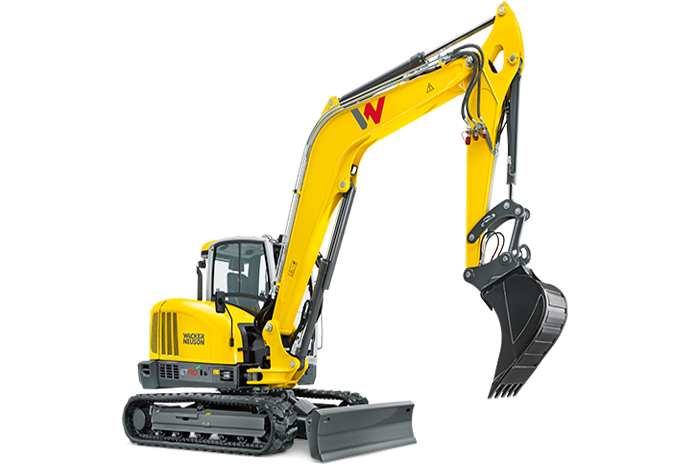 Precise and sensitive operation thanks to the load sensing hydraulic system with LUDV (load-independent flow control).
Low consumption due to the economical ECO mode.
Up to 5 auxiliary control circuits for the most varied attachments.
Extremely compact and maneuverable.
Maintenance and service made easy due to the tiltable cabin as well as the diagnostic tool.
Economical and powerful.
Optimal force distribution when excavating and up to 20% more breakaway force: plunge in deeper and excavate more powerfully.
Less material loss in the bucket due to an expanded angle of rotation of 200 degrees.
Articulated boom for greater reach, digging depth and dumping height.
Up to 20 % less fuel consumption.
Reduced dimensions.
Significantly lower height and width than comparable competition models.
Easily master tight construction sites and low passages.
Higher level of stability due to the low center of gravity.
Easy to transport.
Cabin, sight and operating comfort.
Innovative solution for the optimal view – boom to the right next to the cabin.
Operator comfort: spacious cabin, air cushioned seat and automatic air-conditioning system.
Innovative front windshield system: two-part windshield can be slid up and moved – rain roof position.
LED headlights for optimal illumination.
Rear camera for more safety when in reverse operation.
Jog dial system.
Technology from the automotive sector.
For the direct control of central functions.
Intuitive to operate.